Skip to Content
Fun-Filled Group Swimming in Sartell, MN
Sta-Fit provides swimmers with exercise, relaxation, and fun with group swimming in Sartell, MN. Our pool is equipped with multiple lanes which you can reserve and houses a soothing hot tub and sauna. Swimmers enjoy learning swimming techniques, engaging in competition, taking classes, and simply practicing their skills in our spacious pool room. We have a friendly, knowledgeable staff available to answer your questions regarding reserving lanes and appropriate behaviors while at the pool.
Click Here for the $20 Day Pass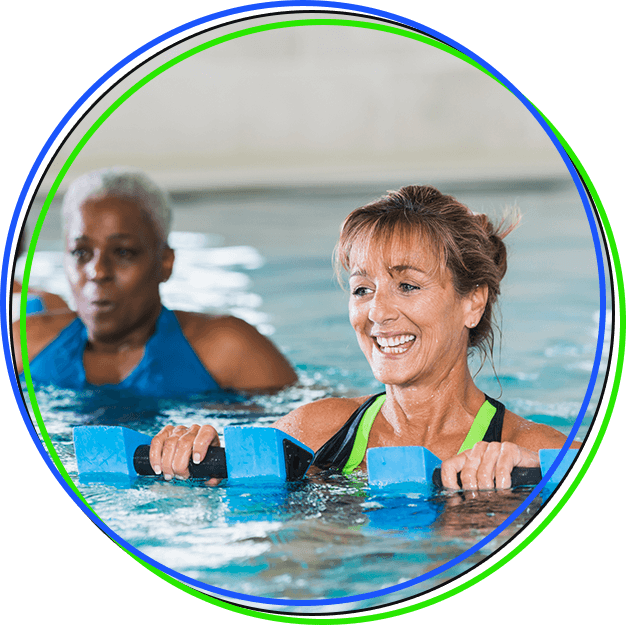 Our Classes
We offer classes for swimmers of all skill levels, backgrounds, and preferences. They include:
Aquafit: This class provides an intense yet low-impact workout. It is ideal for swimmers who want to improve their cardio, build strength, or want a more flexible body.
Silver Splash: Swimmers in the Silver Splash use a splash board to control their movements and adjust their workout intensity. This class is made for new and experienced swimmers.
Master Swim: During the Master Swim, swimmers receive a personal coach that pushes their limits and abilities. This class combines fun and excitement while challenging the swimmer.
Reservation Requirements and Etiquette
Please carefully review our rules and etiquette before making a reservation:
Lanes one through three must be reserved. Lane four is available to everyone unless a class or rehabilitation session is using it.
Your reservation will end at the agreed-upon time. If you want to use the pool longer, please ask the front desk about its availability.
You're required to exit the reserved lanes at the end of your reservation.
If you or your guests aren't at the pool within 10 minutes of your session, your reservation will be automatically canceled so others next in line can use it.
If you cannot make it to your reservation, please cancel it beforehand so we can reserve it for others.
Please wear clean and proper swimwear to your reservation. This rule also includes proper attire for the hot tub and sauna.
The sauna closes 30 minutes prior to gym closing to allow time for all guests to exit the gym prior to closing. Hot tub, and sauna hours are as follows:

Monday-Friday: 4:00 AM to 9:30 PM
Saturday-Sunday: 6:00 AM to 7:30 PM
Please Shower Before Using the Pool
To maintain safety and sanitation, every swimmer, hot tub, and sauna user is required to take a shower before entering any part of our facility. Rinsing and washing beforehand keep the facility clean and prevent dirt, grime, and germs from entering the area. Further, body and skincare products like lotions, colognes, and makeup risk contaminating the water and disturbing its chemical balance. If you have any questions about our pool, sauna, and hot tub policies, please feel free to contact us.
Your Fitness Journey Starts Here