Skip to Content
Sign Up for a Gym Membership in Sartell, MN
Here at Sta-Fit, we offer a wide variety of memberships to choose from. Get the most out of your gym attendance with a membership program that's right for you. A gym membership is an excellent option for individuals looking to improve their health and reach their fitness goals. Gain access to our facility, including fitness classes, training, indoor courts, and amenities. Get advice and supportive services from a personal trainer, or join in on one of our group training sessions. We offer various exercise classes and lessons, including cycling, yoga, HIIT, and more. Make the most of our full-service fitness club by becoming a member.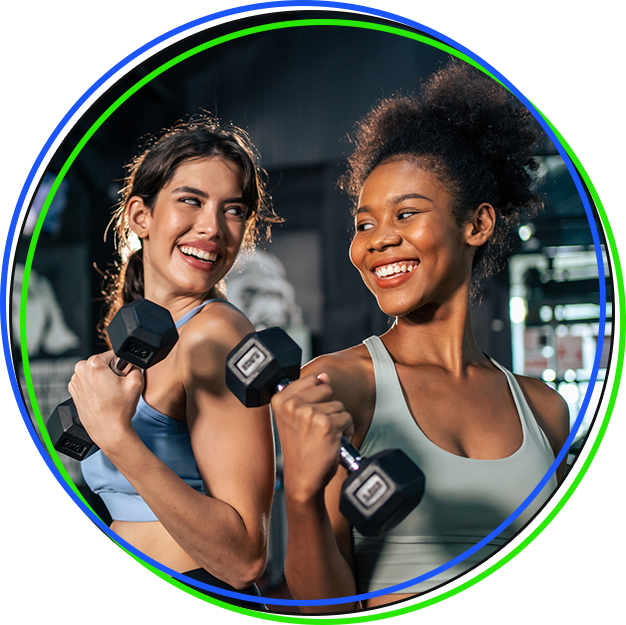 Join a Membership Plan Today
We offer no commitment membership options for short-term and long-term gym attendance. Try out our membership program to find out which gym membership option is right for you. We offer affordable payment plans for single and all-inclusive memberships, as well as monthly or one-time payments.
Member for a Day
We Make It Easy to Become a Member
Here's What You Need to Know
Purchase a one day pass and if you become a full-time member, we'll credit back your One-Day Membership fee and apply it to your enrollment fee*
*Credit is limited to the equivalent of your most recent One-Day Membership fee.
Youth 12-17 Year Old Membership Details
Discounted monthly rate for access. Membership applicable for a single youth 12-17 years of age. When primary member reaches age 18, this membership will automatically be converted to the then-prevailing 1 Adult membership rate.
Proof of eligibility will be required during the first club visit.
*Membership dues, fees, benefits, and services are subject to change at any time. All youth memberships need a parent to sign waiver on initial visit.
Explore Our Available Memberships
All-inclusive memberships include:
Health & Goal Fitness Assessment
UNLIMITED Kid's Club
UNLIMITED Tanning
UNLIMITED Group Fitness Classes
In-Body Scan
In-Club Virtual Classes
Basic memberships include:
Health & Goal Fitness Assessment
In-Body Scan
In-Club Virtual Classes
*A $3 Credit Card fee per transaction is added to any monthly membership paid with a credit card.
Or Save $3 by paying for your monthly dues with your Bank Account.
Fitness Incentive Programs
Receive rewards for getting healthy. In addition to our standard membership options, we also offer select benefits for eligible members participating in the insurance fitness program. We partner with a wide variety of insurance partners to bring our member insurance benefits. By accessing the fitness reimbursement portal, eligible members can receive fitness discounts once they enroll in the program. Select your insurance company and provide updated information to ensure you receive your reimbursement. Complete your program requirements and enjoy benefits from your partnered insurance. Participate in our workouts, check-ins, and health assessments to make the most of your gym membership. Check here to find out if your insurance is one of our health partners.
Schedule a
Tour
When you arrive at Sta-FIT, the Front Associate will be there to greet you and take you on a tour of the athletic club. They will be able to answer any questions you have about classes, programs, and membership options. The tour is good for an individual, couple, or family. The primary guest must be at least 18 years old. Government-issued ID and guest registration at the front desk are required. The tour is subject to club policies and may be limited to specific hours. Call to inquire 320-654-9090.
Your Fitness Journey Starts Here