Skip to Content
In-Studio On-Demand Classes
Stay Active With In-Studio on-Demand Fitness in Sartell, MN
Sta-Fit provides guided in-studio on-demand fitness classes when in-person classes are not in session. Participate in Zumba, yoga, HIIT, and full-body workouts from the comfort and convenience of our in-studio on-demand center inside our fitness room. Our in-studio on-demand fitness sessions are not on-demand but require sticking to a set routine to encourage motivation and consistency. In-studio on-demand exercise combines workouts with in-studio on-demand technology to enhance individuals' abilities, strength, and performance in a personal setting. This can help ease individuals into routine workouts and overcome barriers such as lack of time, loss of motivation, and intimidation.
Click Here for the $20 Day Pass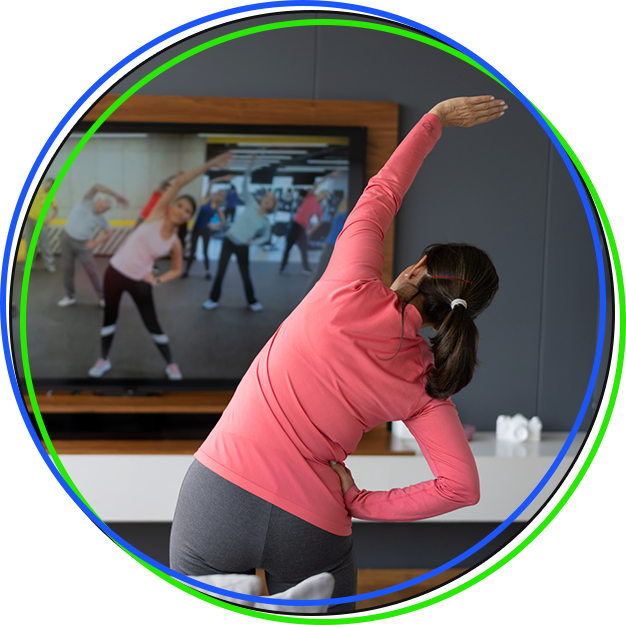 Zoom Class Options
We broadcast virtual workouts of various styles. Our fitness coaches design fitness programs for online clients and deliver them in our fitness room. Students follow along on the screen with a virtual motivational instructor who directs each exercise. Gym members can attend a wide variety of virtual classes, including:
Butts and Guts
Cardio Core
Core & More
Strength
Yoga
*For more information on zoomed class times and days please refer to the GX schedule.
Start Your Virtual Fitness Journey
Jump-start your next workout routine with our convenient virtual fitness classes by Sta-Fit. Learn the moves and see real progress on your fitness goals. Attend virtual gym sessions within our fitness room, taught by qualified virtual instructors. We have a wide variety of class options for varying skill levels and fitness capabilities. No matter where you are on your fitness journey, our virtual instructors can help get you one step closer to your goals.
Your Fitness Journey Starts Here